Elyite, Susannite - Herzog Julius Smelter (Slag Locality), Astfeld, Harz, Germany
(#CULT1667)
Acicular, pale lilac or whitish Elyite associated with platy, whitish Susannite and others, in a typical smelted material. Microscope required.
Specimen weight:50 gr.
Crystal size:Up to 1 mm

Overall size:35mm x 25 mm x 25 mm
Our Price: €15,00



Owner : Cultminerals (Venezia - Italy) View all dealer's minerals
This specimen will be shipped by: Cultminerals (Venezia - Italy)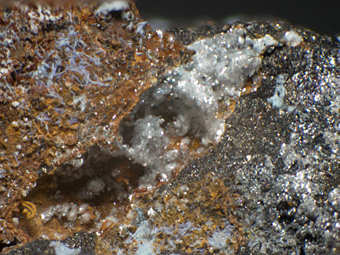 Click for more Images


Veszelyite on Hemimorphite - Laochang ore field - Eastern Sub-district - Gejiu Sn-polymetallic ore field - Gejiu Co. - Honghe Autonomous pref. - Yunnan prov. - China
(#GM15109)
This specimen is almost completely covered by a carpet of green-blue coloured microcrystals of veszelyite, that are layed over a crust of white hemimorphite. It's a nice sample of this rare phosphate.
Specimen weight:55 gr.
Crystal size:--

Overall size:33mm x 37 mm x 36 mm
Our Price: €75,00



Owner : GMineral (Voghera - Italy) View all dealer's minerals
This specimen will be shipped by: GMineral (Voghera - Italy)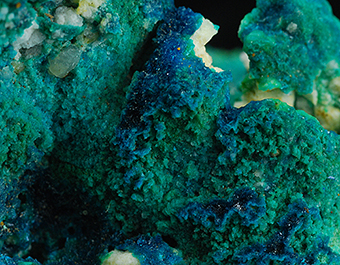 Click for more Images