Agardite ps. on Cafarsite - Wanniglescher, Binnatal, Wallis, Switzerland
(#MINS7975)
Pseudomorphofosis of green Agardite on Cafarsite crystal up to 5 mm richly set on gneiss matrix.
Specimen weight:47 gr.
Crystal size:5 mm wide

Overall size:45mm x 28 mm x 23 mm
Click for more Images


Cafarsite - Mt. Cervandone, Val d'Ossola, Piemonte - Italy
(#FERR1027)
Showy cube-octahedra of brown Cafarsite, nicely encrusted by green Agardite, well set on gneiss matrix. From the finds mad about 20 years ago when the retreat of the ice revealed some of the best Cafarsites ever found. Ex A. Gardenghi collection,
Specimen weight:110 gr.
Crystal size:1,2 cm

Overall size:65mm x 40 mm x 45 mm
Our Price: €120,00

Owner : Ferrero 's (Torino-Italy) View all dealer's minerals
This specimen will be shipped by: Ferrero 's (Torino-Italy)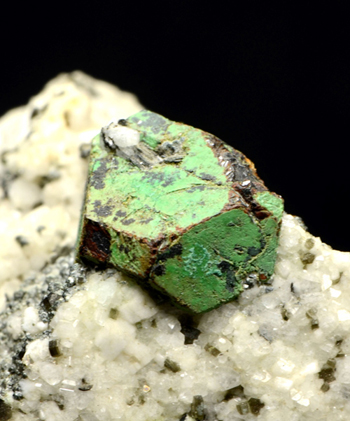 Click for more Images