Humite and spinel - Sissone valley - Malenco valley - Sondrio prov. - Lombardy - Italy
(#GM11144)
The brownish crystals of humite and the black metallic crystals of spinel are in strong contrast with the white matrix. This specimen was found in '80 years.
Specimen weight:157 gr.
Crystal size:mm. 4

Overall size:58mm x 45 mm x 27 mm
List Price:

€62,00
Our Price: €49,00


You Save:

€13,00 (21%)





Owner : GMineral (Voghera - Italy) View all dealer's minerals
This specimen will be shipped by: GMineral (Voghera - Italy)
Click for more Images


Humite - Monte Somma, Somma-Vesuvius Complex, Naples Province, Campania, Italy
(#FERR0790)
Nice thumbnail of Humite in clean, bright, orange xls. From the type locality.
Specimen weight:4 gr.
Crystal size:0,4 cm

Overall size:19mm x 15 mm x 10 mm
Our Price: €65,00

Owner : Ferrero 's (Torino-Italy) View all dealer's minerals
This specimen will be shipped by: Ferrero 's (Torino-Italy)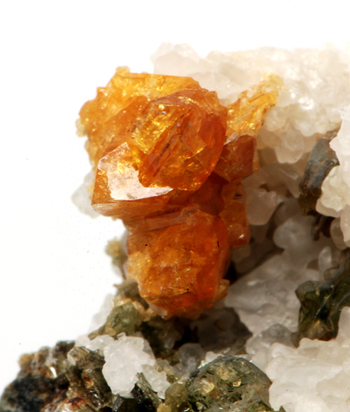 Click for more Images