Vesuvianite and Meionite - San Vito quarry, Ercolano, Monte Somma, Somma-Vesuvius Complex, Naples Province, Campania, Italy
(#FERR0671)
Several prismatic xls of brown Vesuvianite are scattered inside a vug in the matrix. The Vesuvianite is associated to elongated white Meionite xls. Classic piece from the type locality for the Vesuvianite.
Specimen weight:274 gr.
Crystal size:to 0.8 cm

Overall size:100mm x 64 mm x 50 mm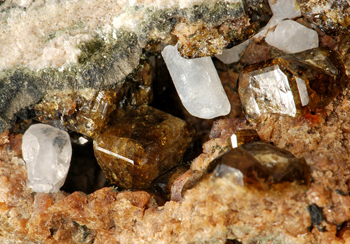 Click for more Images

Meionite - Monte Somma, Somma-Vesuvius Complex, Naples Province, Campania, Italy
(#FERR0443)
Cluster with colourles, elongated xls of Meionite from the type locality. There is a crack in part of the matrix, but it doesn't regard the entire specimen.
Specimen weight:52 gr.
Crystal size:0,6 cm
Overall size:5,5 x 3,5 x 3 cm
Our Price: €60,00

Owner : Ferrero 's (Torino-Italy) View all dealer's minerals
This specimen will be shipped by: Ferrero 's (Torino-Italy)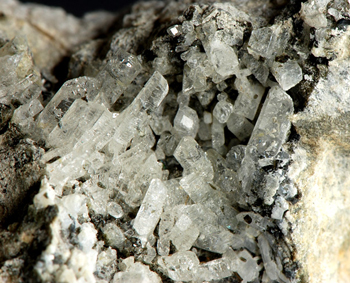 Click for more Images