Millerite with Titanite - Saranovskii Mine, Saranovskaya Village, Gornozavodskii area, Permskaya Oblast, Middle Urals, Urals Region, Russia
(#MINS7695)
Brassy Millerite needles to 1.0 cm in and on a sharp, translucent, light gray calcite crystal. These are extremely large and highly representative millerite needles from this Urals Mountains locale.
Specimen weight:140 gr.
Crystal size:Up to 1.0 mm

Overall size:70mm x 50 mm x 40 mm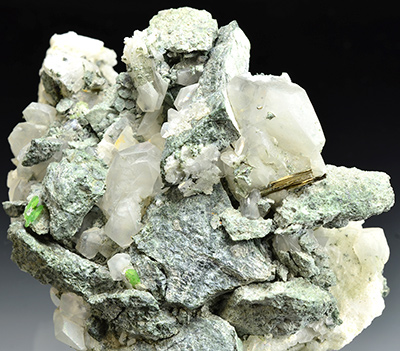 Click for more Images


Millerite - Ca' dei Ladri (Silla) - Gaggio Montano - Bologna prov. - Emilia-Romagna - Italy
(#GM12014)
Several radiating, pale brass-yellow with an iridescent tarnish, shiny metallic acicular crystals are visible in the vugs of this specimen. Typical from this italian locality !
Specimen weight:270 gr.
Crystal size:mm. 10

Overall size:93mm x 65 mm x 47 mm
Click for more Images