Cuproadamite - Tsumeb, Otjikoto Region, Namibia
(#MINS7327)
Cluster with bright green well bi-piramidal xls of Cuproadamite on matrix with Olivenite , from the famous Tsumeb mine.
Specimen weight:112 gr.
Crystal size:to 3 mm

Overall size:65mm x 37 mm x 35 mm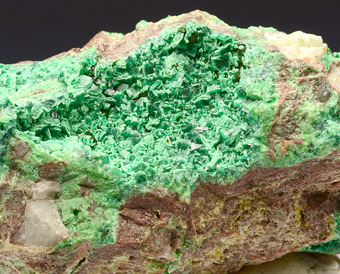 Click for more Images


Olivenite - Mine du Cap Garonne, Pradet, Var, Provence-Alpes-Côte d'Azur, France
(#FERR0363)
Nice miniature, with rich coverage of sharp Olivenite xls showing the characteristic olive-green color.
Specimen weight:18 gr.
Crystal size:0,15 cm
Overall size:4 x 3,7 x 1,3 cm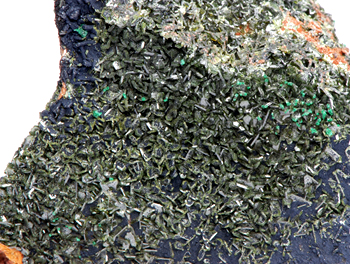 Click for more Images