Policies & Procedures - How to Pay




We accept Credit Card on Bank Secure Server , PayPal and Bank Tranfer

Credit Card on Secure Server

If you have selected 'Credit Card on Line' as your payment method click on 'Click to Pay with Credit Card on Secure Server' button and you will be taken to Credit Card's secure server to make payment








Below the page of Credit Card gateway:
Select your preferred method of payment and follow step to step the procedure.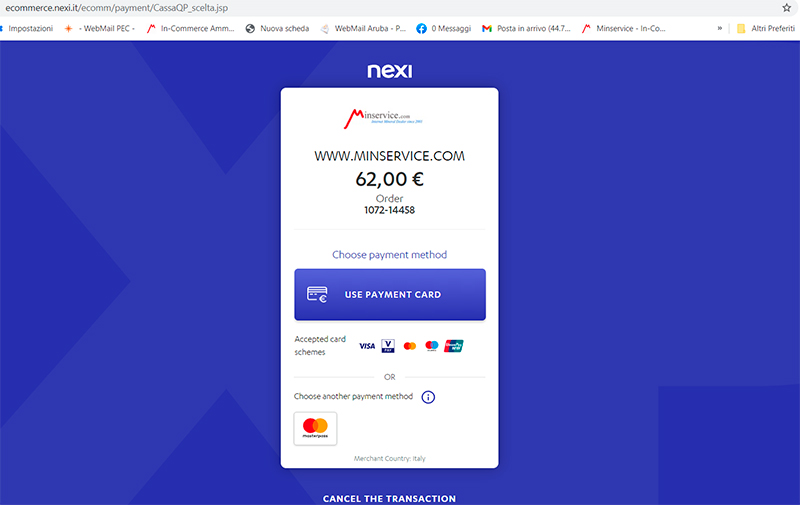 If all is OK you receive an email from Credit card gateway as below:
-------------------------------------
Negozio: MINSERVICE
-------------------------------------

Ordine Internet (Order Number): LPG-58

data (date) : 08-01-2014
ora (time) : 20:33:36
importo (amount): EUR 47,00

Gentile cliente,
Le comunichiamo che il pagamento, effettuato tramite
carta di credito, relativo alla richiesta in oggetto,
e' stato AUTORIZZATO (N. autorizzazione : 373963).

Dear Customer,
we inform you that your transaction, made by credit card,
for an amount of 47,00 EUR, is APPROVED.
If something goes wrong you can re-submit the payment.
In your "Account" click on last Order Number and than click on "Re-submit payment?" link




We do NOT charge "surcharges" for credit card transactions.
Credit card payment is authorized online in real time.
You will be informed immediately if your credit card is declined. If declined, you may check the accuracy of the credit card number and expiration date, or choose a different card to try.
Your order will NOT be sent unless the credit card number you entered is authorized. Once accepted, the authorization process allocates the total amount of the order.
---

2. PAY PAL PAYMENTS
You can pay directly on our PayPal account :
sales@minservice.com


3. BANK TRANFER

Please take note of our bank coordinates.
Bank : BANCA POPOLARE DI SONDRIO
Pay To : MINSERVICE DI LOCATELLI ATOS
IBAN: IT47 W056 9611 0000 0000 6727 X34
BIC/SWIFT: POSOIT22XXX